Contact us
Hotel OLDINN Contacts
Hotel OLDINN
Hotel OLDINN has preserved all of its authentic atmosphere and architectural heritage for nearly 600 years. Entering the hotel, you can feel all magical stories and legends of Český Krumlov. The hotel consists of three historically and architectonically connected buildings.
Náměstí Svornosti 12
381 01 Český Krumlov
Czech Republic
Hotel OLDINN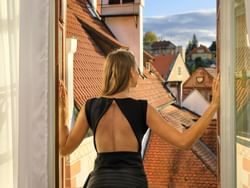 On the banks of the Vltava river and below a magnificent 13th-century castle lies our hotel in Český Krumlov - a UNESCO World Heritage Site. This beautiful South Bohemian medieval town keeps a fairytale-like atmosphere of old days. Set in the very heart of this town, Hotel OLDINN is located on the main town square in the city center.
Bohemia Properties a.s.
Teplická 492, 190 00 Prague 9
TAX number: CZ 6252 5204
Recorded in the Commercial Register: section B, entry 10488, administered by Prague Municipal Court
GDS codes
Amadeus: PRGH33; Galileo: 59701
Sabre: 52919; WorldSpan: 8658
Pegasus: W85405
Pegasus ODD: 85405
TravelWeb Net: 85405